Sono illustratrice e graphic designer, vivo e lavoro a Genova, in Italia. Disegno da sempre e mi piace osservare e capire il mondo naturale con un approccio principalmente scientifico.
Il mio percorso formativo ha seguito parallelamente studi artistici e scientifici. Dopo il liceo artistico mi sono laureata in Scienze Naturali con la tesi "L'illustrazione naturalistica: applicazione alla chiave dicotomica degli anfibi liguri". Ho frequentato, tra gli altri, corsi di disegno naturalistico e fotografia naturalistica.
Lavoro come graphic designer e illustratrice dal 2001.
Ho lavorato per diverse aziende e da freelance; questo mi ha permesso di conoscere realtà lavorative diverse e coltivare le mie inclinazioni. Nell'ambito della divulgazione scientifica, ad esempio, ho ideato la veste grafica di diversi musei, mostre, laboratori e progetti universitari.
Come illustratrice sono versatile, mi trovo a mio agio con tecniche e stili diversi, dalle illustrazioni per bambini alle infografiche vettoriali, ma la mia passione è l'illustrazione scientifica e naturalistica.
I am an illustrator and graphic designer based in Genoa, Italy. I've been drawing all my life and I like to observe and understand the natural world with a scientific approach.
In my training carreer I have alwais mixed artistic and scientific studies. After art school, I graduated in Natural Sciences with the thesis "Naturalistic illustration: application to the dichotomous key of Ligurian amphibians". Subsequently I attended courses in nature drawing and nature photography.
I have been working as graphic designer and illustrator since 2001.
I have worked for several companies and as a freelancer; this allowed me to know different working realities and cultivate my inclinations. For example, in the field of popular science, I made the graphic design of several museums, exhibitions, laboratories and university projects.
I am a versatile illustrator, I am comfortable with different techniques and styles, from illustration for children to vector infographics, but my passion is scientific and naturalistic illustration.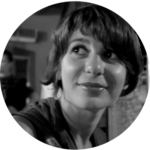 Acquario di Genova • Antinori • Banca Sella • Bulgari • Gastaldi Group • Grandi Navi Veloci • Grandi Traghetti • HappyTicket • Huawei • Intesa Sanpaolo Assicura • King's College – London • Lamborghini • Mercedes-Benz • Ministero del Lavoro • Moleskine • Musei Civici di Roma • Museo Archeologico di Milano • Museo della Scienza e della Tecnica – Milano • Museo Teatro alla Scala – Milano • MUST – Torino • Noberasco • North Sails • Ospedale Gaslini – Genova • Parco Nazionale del Pollino • Planetario di Torino • UnipolSai • Università degli Studi di Genova
Oasis Disegna La Natura – Cuneo 2011 • Children's Book Fair – Kagoshima 2011 • Children's Book Fair – Nanao 2010 • Children's Book Fair – Yokkaichi 2010 • Children's Book Fair – Nishinomiya 2010 •  Children's Book Fair – Tokyo 2009 • Bologna Children's Book Fair – Bologna 2009 • Libri Mai Mai Visti – Ravenna 2003 • Per non dimenticare – Genoa 2003 
I sentieri più belli della Liguria – Genoa 2011 • Oasis Disegna la Natura 2011 catalog – Cuneo 2011 • Pseudorabdion in the museum of Genoa with description of two new species from Sumatra and revised key to the genus – Genoa 2011 • Trashformers N°3 – Per qualche goccia in più! – Genoa 2010 • Trashformers N°2 – Non aprite quella serra! – Genoa 2010 • Trashformers N°1 – Il giallo delle campane scomparse – Genova 2009 • Illustrators annual – Bologna Children's Book Fair 2009 • Trashformers N°0 – Per un pugno di rifiuti – Genoa 2008 • L'Alta Via dei Monti Liguri – Genoa 2008 • Chiave dicotomica per immagini degli anfibi liguri – Genoa 2007 • Per non dimenticare – 2002